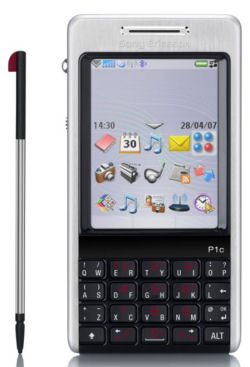 Sony Ericsson's P1 mobile phone/PDA hybrid is a step forward and upward from its predecessors. Positioned in-between a bland corporate tool and something with more of a personality the P1 has a ton of functionality and features embedded into its svelt frame (which is 25% smaller than the P990.)
It's got Bluetooth, USB 2.0, WiFi and infra-red capabilities, is GSM and 3G functional, a 3.2 megapixel camera, a built-in FM radio, a touch sensitive screen, 160 MB internal memory and a battery talk time of three-and-a-half hours.
There's something called a business card reader which can snap a picture of your contact's card and then instantly port the info over into the P1′s address book. Another nifty feature is the remote wipe facility so if you ever lose it or have it stolen you can erase all your sensitive data wherever your P1 is.
It uses stick micro cards and comes with a 512 MB one when you pick it up. That 20 button keyboard is a good thing too since your busy answering your client's inquires all the time because the P1 supports push email. The P1 is slated to hit shelves in the third quarter of the year.