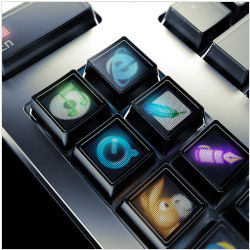 It's getting closer and if you've been saving your pennies to purchase one of the few Optimus Maximus keyboards that will be made at the start of the product launch you only have two more days to go. On May 20 beginning at 3:00 PM Moscow time (that's 7 AM to those on the east coast of the U.S.) Art Lebedev Studio will begin taking orders for its $1,536 OLED keyboard.
Only 200 of the Optimus Maximus keyboards will be made at the start of December, then another 200 more in late December and 400 more in January. It will be first come first served for the pre-orders. At the same time the company will release the full specs for their device.
A quick use of our pocket calculator tells us that if Lebedev sells out of its initial 200 unit order that will be $307K in gross sales. We're betting that they will sell out but at that price tag unfortunately it won't be one of us that picks one up to write future articles on.