As of today the Optimus Maximus keyboard is ready for pre-order, but remember that there are a limited amount and only 200 orders will be available for early December, and in fact it appears from the pre-order page that as of this afternoon those 200 are already spoken for.
There will be another 200 available at the end of December and 400 ready to ship in early January. So, there is still hope in getting one but you better hang on to your hat because the price tag to pre-order an Optimus Maximus keyboard is 43 990.00 Russian rubles which equates to about $1,564 on the pre-order website. The exact number of keys that the keyboard would have were in question, but they officially came out with a version that has a total of 113 keys.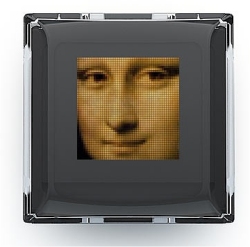 The Optimus Maximus keyboard is designed having each and every key as a small stand alone 10mm x 10mm OLED display. The display can be changed to show the function of that particular key, whether it be a character, a shortcut icon or an image. Each key is has a resolution of 48 x 48 pixels, a refresh rate of 10 frames per second, a 160 degree viewing angle and supports 65,536 colors.
The keyboard has an "Optimus Configurator" software interface that allows you to set it up for whatever you would like in just about any language or keyboard configuration. It can be custom configured with math shortcuts, musical notes, programming code or any special symbols the user would like. The keyboard connects through USB 2.0 and runs with Mac OS X and Windows.
Pre-Orders started today through the Art Lebedev Studio website at 3pm Moscow time (7 AM EST) and will go until they are all spoken for.