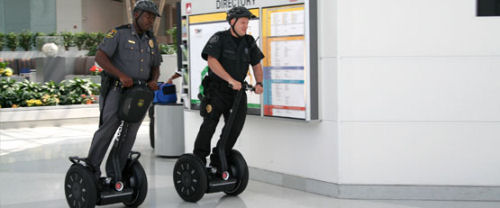 The New York City Police Department has purchased 10 Segway Personal Transporters for its force and will start using them for patrols in the city's parks beginning this summer. The Segway PT has been slightly modified for police duty and now sports an extra bar for lights and a siren, reflective police labels, a handlebar bag for the cop gear, LED taillight and extra support for standing on the mat and cargo frames that also serve as lift handles.
Remember five years ago when guys like Jeff Bezos of Amazon.com said that the Segway would be the biggest thing every for cities and people would flock to use one. It never happened because essentially it's a spiffed-up scooter and there's no place to put your groceries, take passengers or stay dry and warm when it's lousy outside. Who wants to show up to work soaking wet? But I'll be the first to admit that for some jobs using a Segway makes a lot of sense and in this case it does.
Cops will be able to get to calls faster, they will have higher visibility to see over crowds and the kids will dig seeing them roll by in the park. Thumbs up for the NYPD.