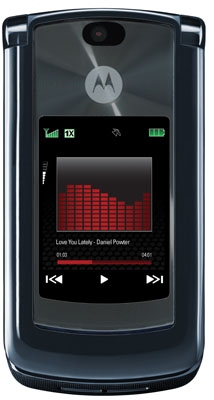 Yesterday Motorola unveiled several new additions to its mobile line of phones and the one that commanded the most attention may have been the RAZR2 V9m. This compact (103 mm x 53.24 mm x 11.9 mm) flip phone has a 2.0 megapixel camera with 4x zoom, two 320×240 screens (the internal one is slightly larger clocking in at 2.2 inches), has video playback capability (MPEG4, H.263, H.264 support), can play your music (AAC, AAC+, MP3, WMA and more formats), can browse the web and is of course stereo Bluetooth enabled.
The new ARM 11 processor makes the new RAZR ten times faster than its predecessor, allowing transfer times of 2-3 seconds for a single song. It's also speaker-enabled so you can dial your buds, check your email or do calculator tricks by using your personal voice box. You can also check your received emails, call or text messages or play your music without even having to open the flip now.
Talk time is around 220 minutes while standby mode gets you around 290 hours of battery life. 2GB of optional removable memory makes it even more attractive allowing you to hold up to two hours of video if you like. Also, the redesigned user interface is supposed to make it a lot easier to find your favorite numbers and customize them to be indexed together.
Motorola's RAZR2 V9m will start popping up in stores sometime in July. Prices are still as yet to be announced.