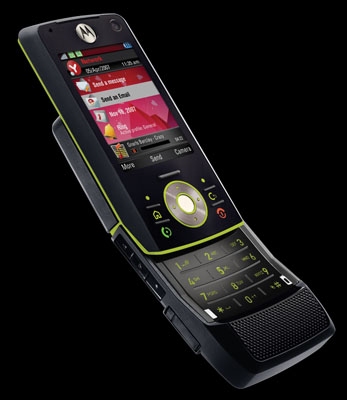 Excuse me, Mr. Jobs? Motorola would like you to look at its new "media monster", the fresh-faced MOTO Z8. Announced yesterday, this 109mm x 50mm x 15mm black beauty with Xbox green trim lets you watch your favorite video at rates of 30 frames per second. It comes with 80 MB of internal memory but can be expanded up to a super-sized 32 GB with the right microSD cards (that's enough to store 12 movies or 70 hours of tunes.)
The 2.2-inch QVGA screen displays16 million colors, perfect for watching "The Bourne Identity" since it comes pre-loaded on a 512 MB card that ships with the device. The 2MP camera has an 8x zoom capability with flash and several modes and the VGA camera is ideal for any two-way video calls you need to make with the office.
Broadband transmission rate is 3.6Mbps HSDPA allowing for ultra-quick download times and the internal OMAP2420 and ARM 11 processors make it smooth sailing for grabbing your songs from the net while doing something else on the Z8. The GUI is also supposed to be KISS friendly allowing for one touch access to most of the Z8 functions like photo sharing or video uploading (your MySpace friends will be delighted.)
Battery life in standby mode is 16 days, video playback or phone time is 5 hours and music playback is 12 hours. The top slides up to reveal the backlit 12 button alphanumeric keypad. And if you're worried about finding cool games to play on your Z8, Motorola has announced a partnership with Electronic Arts to bring new ways to kill time to your handset starting with a demo of "SSX3".
The Moto Z8 hits Europe and Asia first in June with plans for a North American roll-out a little later on.