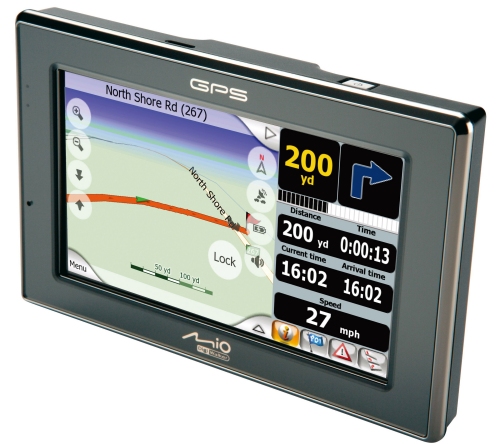 Mio Technologies, which introduced the DigiWalker C220 just last month, is back at it again with the new, upper-end DigiWalker C520.
The thing which grabs us right away about the DigiWalker C520, priced at around $400, is the 4.3-inch split-screen display. It can be used in either full screen map view or a split-screen which shows off stuff such as upcoming intersections or points of interest locations. The C520, like the C220, uses touch-screen technology to make using it while driving easier. Not that we recommend you fiddle with it while screaming down the highway at 80MPH though.
Another cool feature of the C520 is its enhanced Bluetooth options. It can pair with Bluetooth-enabled cell phones to let you do hands-free calling using its built-in speaker and microphone. It also works with Bluetooth capable car stereos so you can enjoy compatible audio files played from the C520 via its SD/MMC memory card slot.
The feature list doesn't stop with Mio's newest GPS unit. We get breathless just hashing it all out to you – text-to-speech directions with street names called out, preloaded U.S. and Canadian maps, on-screen display and playback of digital photos and movies, synchronization with Microsoft Outlook to load your contact list into its 2GB of memory so you can make hands-free calls or map to imported addresses and a rechargeable battery.
You can read more goodness about the Mio DigiWalker C520 at its Web site.
C520, Digiwalker, GPS, Mio