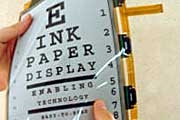 The day when you will be able to flip pages on your newspaper while watching full motion video articles and ads may be sooner than you think. Yesterday LG Philips announced that it has successfully manufactured the first A4-size color electronic-paper capable of displaying up to 4,096 colors. The e-paper, which is a flexible thin sheet, measured 35.9 cm (14.1 inches) diagonally and is just 0.3 mm thick. LG also said that it had made its e-paper to be power smart and uses energy only when the image needs to change on the "page".
E-paper works by using the electric charge to move electronic ink across a metal foil. Instead of using backlighting the e-paper reflects the light allowing for a greater field of angles (up to 180 degrees) to read the page from. LG Philips' new e-paper also utilizes a color filter that is coated on top of the plastic layer over the metal foil layer.
The company sees limitless applications for the color e-paper ranging from newspapers to information tablets that can be used in schools, workplaces and business. "The potential applications for this display are incredible and will allow our customers to create new products that are not only convenient to use but also save natural resources. This represents the next generation in display technology," commented In-Jae Chung, the company's Chief Technology Officer and Executive Vice President. The forests of the world were unavailable for comment.