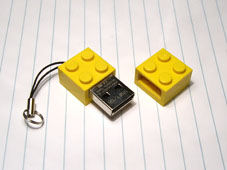 USB flash drives come in all shapes and sized these days, and not even a lego brick can escape it.
A Australian company called Zip Zip has created a 1GB USB flash memory thumb drive out of small Lego bricks just to add a little fun to you data storage needs.
This design makes me wonder if you could stack these bricks together, and something that would be really cool is if by stacking them you could expand the memory. But for now I think they are just regular Lego bricks with a flash drive built in.
The Lego USB flash drive comes in six colors of yellow, blue, red, white, black and green and retails for just under $49 ($59 AUD).
bricks, flash drive, Flash Memory, lego, Storage, USB