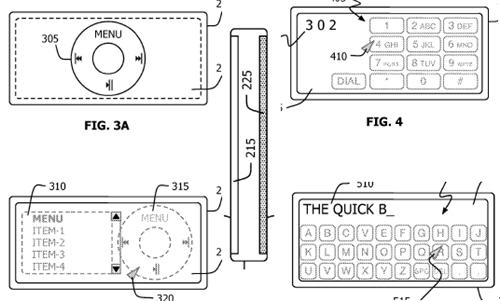 Gadgets that need a somewhat-significantly sized interface for texting messages or dialing phone numbers can only get so small before they will just be too tiny for the average person to use, so what would a designer do when they've simply run out of space on the device? By looking at this patent found by Unwired it appears that Apple has an interesting solution.
Instead of trying to cram more buttons into a small area or re-purposing the same area, it appears that they are playing with idea of using both sides of a smaller gadget to make more room. By doing this Apple could potentially make an iPhone closer to the size of an iPod nano, by which they could have something like an iPhone nano.
On the USPTO web site, the proposed iPhone nano would have a full screen for viewing on one side and a touch panel on the backside to control what you're doing. Depending on the mode, the screen could show different items to select such as choosing songs, dialing phone numbers, texting messages or turning a scroll-wheel. The backside of the player would allow you to move your finger across the device to move the cursor on the display and select the items you want by applying more pressure to the touch pad.
While an iPhone nano type device might still be quite a ways off, it's always fun to get a peek at what Apple could be contemplating for their next generation of devices. Maybe our prediction of an iPhone nano last year wasn't all that far off?