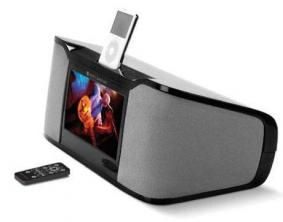 Life in a dorm can be cramped, and if you've got your iPod to watch the latest episode of "Lost" or "Heroes", you know that it can be a pain trying to catch the action on that tiny screen. Altec Lansing is out to convince you that your school daze can be better if you pick up their inMotion iMV712 iPod entertainment system, a three speakers and screen combo which connects with your video iPod and plays the content on it.
The LCD screen is 8.5-inches wide and there is a four-inch subwoofer and two three-inch speakers on the sides. Your iPod docks in the base which also recharges it, and there's also a remote that controls the functions of the inMotion or the iPod.
An RCA input connection and an auxiliary input jack for other brand MP3 players is also along for the ride. If you're out of school maybe having one of these on your kitchen counter or home office will work for you too. MSRP is $349.95 when the inMotion entertainment system arrives in electronic stores later this month.