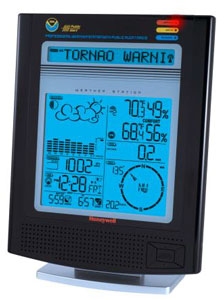 With this home weather station you can always be in the know about how to dress for the day, and this particular model, the Honeywell TN924W, is the first to be equipped with notifications of federal alerts such as tornado's, flash floods and other natural disasters with the NOAA SAME technology.
This home weather station has a highly visible LED screen that shows weather measurements as well as graphical pictures so you can tell at a glance what's going on outside. Along with the nice indoor display it comes with a nice set of sensors to measure wind speed and direction, precipitation, temperature and humidity. All this accessed from the indoor screen which works from up to 100 meters away from the sensors. The makers of the TN924W weather station have designed it to also support 4 additional sensors for measuring temperature and humidity in different places around the sensor. These can be very handy to keep an eye on the humidity of your wine cellar, the temperature of your nursery and the green house, all from one spot, along with your regular indoor and outdoor information.
Although this doesn't have much in the way of portability, it has some really nice features such as tracking up 200 weather records, a calendar that keeps track of the moon phase, the ability to calculate sunrise and sunset times and an alarm clock complete with snooze. No need to set the clock on this device either, as sets its own time to the US Atomic clock.
Product Page via ElectronicHouse