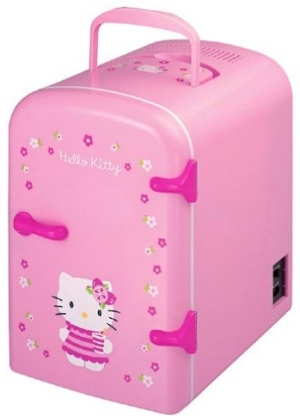 Every time we turn around it seems Hello Kitty has something for everything. Adding to their broad list of Hello Kitty branded products is this Hello Kitty Mini Fridge. Not only is it able to keep things cool, but it can warm things up as well.
This mini fridge has six times the capacity of the USB mini fridge with the ability to hold six 12 ounce cans instead of just one. It draws its power from a standard electrical outlet or makes itself portable with a 12v cigarette lighter for the car. The fridge has three modes; heat, cool and off. The heat mode will bring items inside the aluminum lined container up to 122° F and the cooling mode cools down to 46° F.
The device measures 11 inches tall and weighs about 6 pounds empty, and even has a little handle on the top to carry it around like a lunch pail. We found the Hello Kitty Mini Fridge at a number of retailers for varying prices, but ToysRUs seemed to have one of the best deals at $49.99.
Hello Kitty, mini fridge, refridgerator