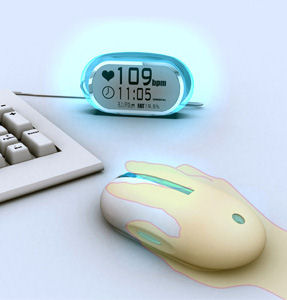 Hours of coding or playing EverQuest and lack of exercise commonly go hand in hand to promote growth of the waistline of sedentary computer users (like myself). This can usually lead to bad health problems down the road with various parts of your body such as your ticker. Designer Kawok Lau thinks the answer to salvation might lie in your mouse.
That's right – your computer mouse. Lau has cooked up what is being called the Heartbeat Indicator Mouse. This regular, wireless mouse activates when a person goes to use it by calling upon built-in sensors below the thumb and palm to take one's heartbeat. The results of your pulse are displayed on a USB device with a LCD screen which you can position on your desktop so you see exactly how often someone's annoying email spikes your heart rate. This same display will tell you how long you've worked/grown your online fighter to level 30 from level 1 in one sitting.
To make things even more fun the Heartbeat Indicator Mouse can transmit information about your pulse (or perhaps lack thereof) to a hospital or doctor/wife/whoever pays your medical bills because you won't move your fat, lazy ass to do it. This information is transmitted on a regular basis over a broadband connection.
via Gizmodo