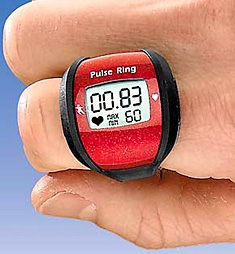 Usually when you or your doctor take your pulse you would use a blood pressure cuff, a clip on one of your fingers or even just counting the beats on your neck the old fashioned way. Taylor Gifts is bringing the pulse counting business into the 21st century with its heart rate monitor ring so you can always tell what your rate is with just a quick glance.
While its bright red design won't win any style awards it does get our approval for displaying your pulse in large enough numbers (between a range of 30 to 250 beats per minute.) If you want to use the ring in conjunction with an exercise routine the ring also features a stopwatch mode and a timer mode so after you do your workout you can check back and see what your vitals are like.
The FDA approved device also will display your maximum/minimum heart rates. Dimensions are 2 inches by 1 1/4 inches and it will cost you $39.98.
Taylor Gifts via CoolestGadgets
heart rate monitor, ring