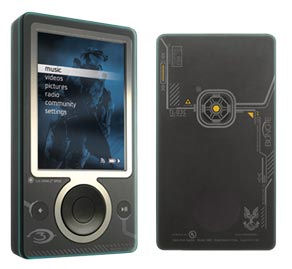 Now that Microsoft has announced a September 25 release for its much anticipated "Halo 3″ PS3/Wii killer, Gamestop is offering a piece of crack right now for all the Halo-ites that can't wait that long.
The online video game store is selling an exclusive branded "Halo 3″ Zune that comes preloaded with a ton of Master Chief goodness. Those that buck up the $249 will get three "Halo 3″ making of documentary videos, the 2006 E3 trailer, the "Starry Night" commercial, the "Halo 2″ theatrical trailer, the first six episodes of "Red vs. Blue" as well as a custom made episode just for the Zuners. You also get the first two games' original soundtrack (three in all counting the two volumes made for "Halo 2″) and over 120 different pieces of concept art, paintings and production designs from the games' development.
What's not included is understanding from the iPod crowd, but then they're probably going to have to wait a long time for Apple to release its own gaming system. Hey, maybe we can start a rumor today!