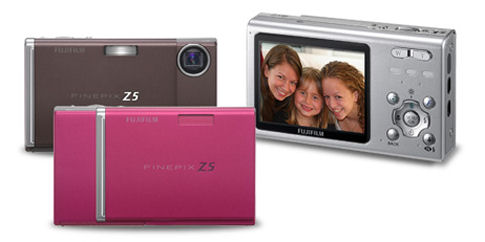 Fujifilm has recently released the FinePix Z5fd, their latest point and shoot digital camera featuring a "blog mode" which is supposed to make the process of taking photos and getting them onto your website faster and easier.
When we first heard rumors of this camera here at the Brick we had grand expectations of some camera with Wi-Fi and some type of email or automatic http posting capabilities. Our imagination of a blogging camera may have been a little out of hand, but we honestly did expect a little more than what Fujifilm released.
The Blog Mode on the FinePix Z5fd consists of a couple of features. The first allows the user to take the full 6 megapixel resolution photos and with the single touch of a button save a lower resolution (640×480) version of the same image. This resolution is still a little big for us personally, but it certainly would be easier than having to open the file up in an image editor and re-saving it manually. If this size works for you then you are in good shape. If not, it would be really nice to be able to configure the default size you want. Maybe in the next model?
The second feature of the Blog Mode on the Z5fd is the ability to transfer files wirelessly via infrared. None of us have infrared on our notebooks but if you do, again you are set.
There are a few other notable features of the Fujifilm FinePix Z5fd digital camera. Facial recognition is something showing up on more small shooters, and this one can recognize and automatically focus in on up to 10 faces in the frame. It also has picture stabilization, a big 2.5 inch LCD and an improved combination of speed and quality photos.
The design is a thin .8 inch frame with a sliding front to expose the lens and it uses the xD-Picture cards for storing your media. The camera retails for a very reasonable $219 which doesn't look like a bad deal, Blog Mode or not.