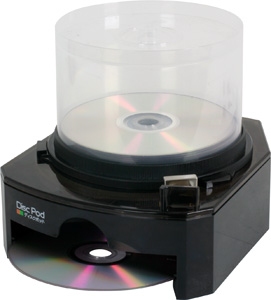 In their ongoing search for the coolest gadgets, the folks over at CoolestGadgets have come across something interesting that makes us as the simple question: "Why?".
The Disc Pod Dispenser is pretty much just like it sounds, it's a small device that dispenses discs. You stack them up in the cake top above the device, and then press a manual button (yes, no batteries) and it will dispense exactly one disc. You could have a multitude of these devices on your desk, each labeled for the different types of discs; CD-R, CD-RW, DVD-R, etc. and never have to remove the lid off your spindle of discs again. Or at least until you work through the 100 count capacity.
The Disc Pod Dispenser retails for around $14 (£6.99) at Maplin.