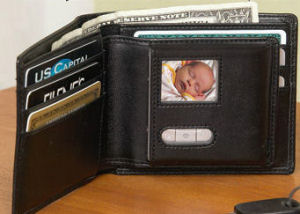 At the risk of having a wallet that rivals the likes of George Costanza's, Brookstone has a version that holds a small digital picture frame inside so you can carry around multiple pictures of your loved ones, 21st century style.
The Digital Photo Wallet is pretty much like any other leather bi-fold wallet except that it has a spot for a digital picture frame which can hold up to 50 digital photos inside your wallet. The picture frame shows photos on a 1.4″ LCD screen and the whole thing can be taken out of its place in the wallet to view or to connect to your computer through a USB connection in order to transfer files.
There's also an included internal battery that recharges through the USB cable so there isn't the need to buy or replace batteries. As a great Father's Day gadget this Digital Photo Wallet goes for $59 and avoids dad carrying around old, beat-up photos.