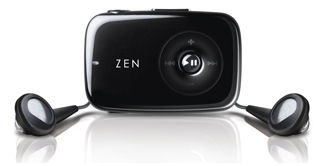 Creative Labs rolls out the Zen Stone, their fancy way of saying "Look at our new MP3 player." Weighing less than a pound and with a storage capacity of 1 GB (that's about 250 songs at 4 minutes each), it comes in 6 different colors and looks a little like a compact digital camera.
Dimensions are 2.1" by 1.4" by 0.5" so it's small enough to slip into your shirt or jeans pockets or even attached to your car keys (there is a keychain accessory that you can also buy.) The Zen Stone plays MP3, WMA, WAV and audible formats and the rechargeable Li-ion battery gives you 10 hours of playtime as you shuffle through your selection or playback your favorite tune for hours at a time.
Creative has software on its website that you can download to better manage your ZS music files and rip songs to upload to it. At a cost of just $39.99 this is one portable media player that you can afford to pick up in a couple of different colors.
Creative Zen Stone, DAP, media player, MP3 player, pmp