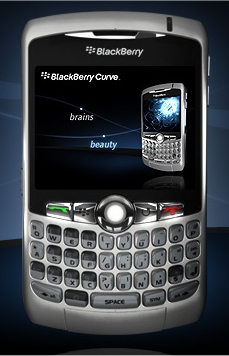 The BlackBerry Curve (aka the 8300) is the latest model that's been added to the BlackBerry lineup of handheld devices from Research In Motion (RIM). The claim to fame for this new model lies in the combinations. The BlackBerry Curve sports a smaller size combined with a full QWERTY keyboard, and also packs in blend of features to serve both work and play.
The BlackBerry Curve is the smallest and lightest BlackBerry yet that has a full QWERTY keyboard. At only .6 inches thick, 2.4 inches wide and 4.2 inches tall, the device is almost the same size as the BlackBerry Pearl aside from being just a little bit wider to accommodate the QWERTY keyboard. The Curve also outweighs the Pearl by .7 ounces with a total weight of 3.9 ounces. The BlackBerry Pearl is the smallest BlackBerry device that RIM currently has, although it's too small to have the full keyboard. The next larger device is the BlackBerry 8800 which happens to be just a little bit thinner, but is slightly wider, taller and heavier than the Curve.
There are a few things that aren't new with this phone that we keep hoping to see each time RIM comes out with a new BlackBerry device, the first being WiFi. The ability of a smartphone to be able to connect to a WiFi network when available is a nice convenience and we'd love to see this option round out the connectivity features of any new BlackBerry, but no luck this time. Supporting a 3G network wouldn't hurt either, but again no dice. Something else that's a little strange with the Curve is the lack of a built-in GPS receiver, especially since it comes with the BlackBerry Map navigation tool.
RIM did add in a spell checker for emails written on the Curve, which is a first for any BlackBerry device. It also comes with a good mixture of features that make it useful at the office and after work. A 2 megapixel camera with flash, media support for WMA an WMV files, a microSD card slot, a headphone jack, stereo Bluetooth, push-to-talk and the Pearl-type trackball top the list of cool features for us.
You can find out more at the BlackBerry Curve website and see the whole BlackBerry line at the BlackBerry site. There's no real word on pricing yet, but it's expected to be available sometime in May. We'll keep an eye out for carriers and pricing in the coming weeks.
BlackBerry, BlackBerry Curve, Mobile Phones, RIM, smartphones