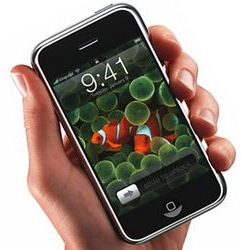 Apple has announced that its iPhone has gotten the green light from the FCC to go ahead with a planned June launch according to Apple spokesperson Natalie Kerris, despite false rumors that the product will be delayed.
The iPhone was announced by Apple back in January by CEO Steve Jobs at the annual MacWorld conference. Very shortly after the announcement Apple was met with some resistance to the new mobile product due to legal issues with Cisco which after a little more than a month was resolved.
The recently FCC approved mobile phone from Apple features a full-size intuitive touchscreen interface and will download and play iTunes music as a nicely features multimedia phone. Rumors have already started about a new smaller iPhone nano type version due to some information found through the USPTO.
Apple has said it hopes to sell as many as 10 million iPhones by 2008 priced at $499 and $599 for two models of different storage capacities.