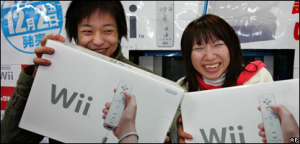 According to a Bloomberg report, sales of the Nintendo Wii Japan continue to dominate over its Playstation rival.
Back in January SlipperyBrick reported that Wii sales were already significantly ahead in Japan after its launch on December 2nd, even though the PS3 launched about 3 weeks earlier on November 11th.
As of March 25th, Nintendo has reportedly sold 1.95 million Wii game console units in Japan, which is more than twice as many compared to 812,000 PS3 consoles sold by Sony in Japan since each of their respective launch dates.
The PS3 is a little more pricey game console, however. Actually sales yen makes the difference not quite as great with the PS3 having 47.6 billion yen in sales versus Nintendo's 48.7 billion yen during the same period.
[Image via BBC news]
japan, Nintendo Wii, Wii, Wii Sales