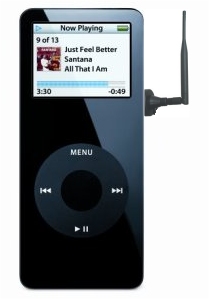 According to a recent report from DigiTimes, Apple has plans to launch a WiFi enabled iPod that could be available to ship by Q3 of this year.
The report states that as soon as this month Universal Scientific Industrial (USI) will be shipping the components that will make the WiFi capabilities possible to Foxconn, who will then assemble the new device. Foxconn would then have enough of the devices assembled and ready to go by the 3rd quarter of this year, which would mean that these new WiFi iPods would be ready to go in plenty of time for the holiday rush.
This seems to makes sense for Apple to do in order to stay competitive with the Zune and its WiFi capabilities. There has also been rumors that Sony and Samsung are preparing a WiFi enabled DAP, and Sandisk has already shown offer a similar device. One of the questions now, assuming that this report is accurate and Apple really has plans for a WiFi iPod, would be how Apple would chose to use the WiFi connectivity.
Transferring data from a computer to the WiFi iPod seems to make sense so you could sync data and songs without docking. Also transferring data between iPod devices could potentially be more feasible now with music that has no DRM.
Battery consumption would be a concern, however. Just like in a laptop when you have the WiFi turned on the remaining battery life noticeably decreases quicker. The ability to turn the WiFi on and off would not be a bad idea, either. Also, the Brick had reported back in February about the possibility of Apple changing the storage of data in the iPods from hard drives to Flash memory. Doing this would use less power and leave more battery life for the WiFi components.
While a WiFi iPod might still be a long shot we are going to stay optimistic on this one.
Source: TGDaily
Apple, iPod, wi-fi, Wi-Fi, WiFi iPod