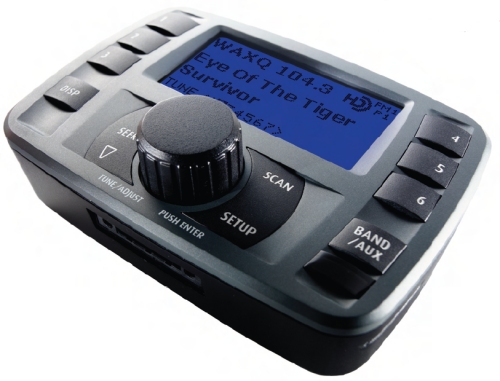 Visteon has introduces an HD radio solution that adds in a feature not found in most, if any other HD radio device currently – it's portable. The Visteon HD Jump radio can be used at home or on the go in the car. Place it in it's cradle in your home and play it through your home stereo, or drive it around in a separate optional cradle in your car to bring HD radio with you on the go.
The system works much like a portable satellite radio would by being a portable receiver of a high quality radio signal that you can dock in different stereos. One significant difference between the two however is that HD radio comes without a subscription fee.
The Visteon HD Jump has a large display that shows the current artist and song title playing and has 6 buttons that can be preset to store up to 18 different frequencies of AM or FM stations. There are no speakers built into the device, so it requires an external home stereo or car stereo to operate. The HD Jump can be connected through an auxiliary jack or played on your regular FM radio through an FM transmission. There is also an auxiliary input jack where an MP3 player could potentially be played through the HD Jump..
This portable HD Jump will set you back around $250, adn retailers can be found through the Visteon website. If you're unsure about HD radio in your area, take a look at the HD Radio website for locations in your neck of the woods.