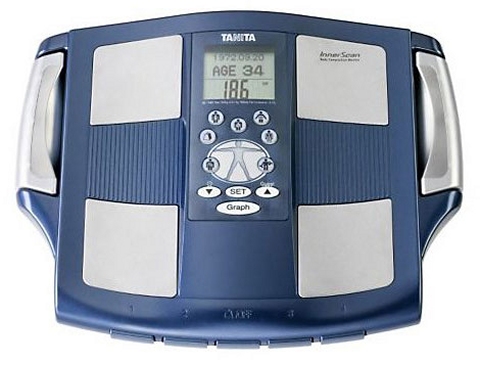 Tanita, a worldwide leader in creating electronic scales, has come out with new scale that checks your weight and then some.
The Tanita BC-545 not only checks your weight, but uses bioelectric impedance analysis to measure your body composition. Now, scales that measure this type of impedance are getting more common and it really doesn't make the BC-545 all that special, but Tanita takes it a little further to offer some pretty unique and cool features. This scale will take measurements of things such as body fat percentages, body water percentages, bone mass, metabolism rate, muscle mass, and daily calorie intake among other things.
What makes this device even more unique is the same reason Tanita prefers to call it a segmental body composition analyzer. The BC-545 can give readings from 5 different segments of your body – both arms, both legs and the trunk. With this scale you can pinpoint and confirm those problem areas. The device does this by using electrodes through your feet and through retractable hand electrodes that you hold onto while being measured.
The Tanita scale also has a built in calendar that can keep track of days and graph changes in your readings for up to 36 months. When friends and family want to try out your cool new "scale", a guest mode keeps them from messing up your trending. The Tanita BC-545 Segmental Body Composition Monitor runs about £ 199.99 and looks to be worth every penny.
US customers can find the "Ironman" (BC558) version of the Body Composition Monitor here for about $300 USD. – Thanks Sabrina!
Product Page via Gizmag