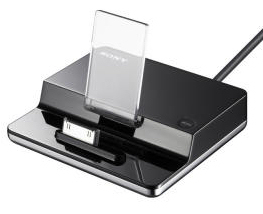 Two months after releasing its first docking station for Apple's iPod, Sony is back to show off a new adapter that connects your 'pod to Bravia home theaters. The Digital Media Port iPod Dock, a.k.a. TDM-IP1, acts as the middleman between the two technology titans, a move that Sony had been putting off for some time.
The sleek black appearance weighs about 220 grams and is 90 x 78 x 65 mm, so it doesn't take up too much space somewhere close to your TV. The TDM-IP1 is compatible with the more recent iPods (like the first and second generation nanos and the fourth and fifth gen iPods/iPod minis), but does anyone still have an older model kicking around anyway?
Sony has priced the adapter at a penny under $100 which doesn't make it the cheapest iPod adapter out there, but for purists that want matching Bravia lines decorating their rec rooms, at least now you have the option to complete your decor.
via Crave