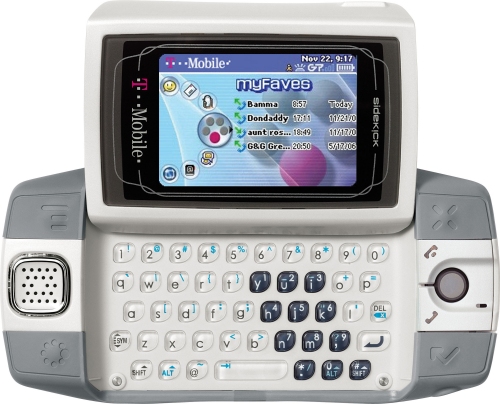 T-Moibile has officially announced the release of the latest Sidekick product called the Sidekick iD. SlipperyBrick reported on some rumors of pictures and specs of the ID about a week ago and it looks like they turned out to be pretty accurate.
The Sidekick iD is a scaled down version of the feature set you would find in the LRG Sidekick or D-Wade Sidekick versions, and also comes with a scaled down price of $99 with a 2 year service plan and the Sidekick data plan. This version of the Sidekick looses some of the "extras" like a digital camera, Bluetooth, and MP3 player and the ability to expand the memory.
It does keep up with the communication aspects of the device, though. The design is the same with the flip up screen, full QWERTY keyboard and support for email, 3 IM clients and a full web browser. The device can handle up to 10 IM conversations at any one time and also includes the MyFaves program from T-Mobile.
Personalization is a key feature of the Sidekick iD. In the early-released photo we showed you last week there were multiple colors, and this is because the outside hardware is actually customizable by letting you remove the exterior and replace it with different colors to match your mood or outfit at the time.
The Sidekick iD will be available on the 25th of this month, and you can check out some of the customizable looks at the Sidekick website.
Sidekick, Sidekick ID, T-Mobile