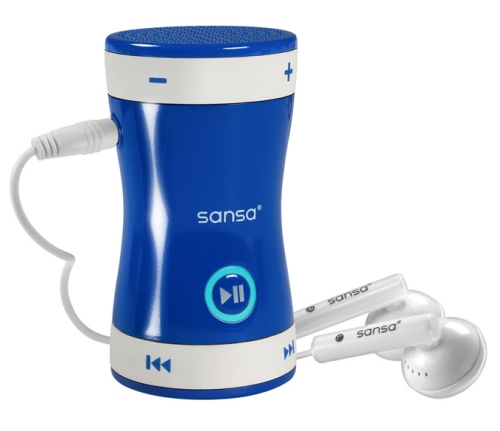 Gadgets for young kids are way cooler now then they were when I was young. Within just the last few months we've seen a new Kidizoom digital camera, a kid-tough FP3 player and now Sandisk, wanting to make sure they have something for everyone, has released the Sandisk Sansa Shaker MP3 player targeting the smaller tykes.
The Sansa Shaker isn't necessarily high on tech but it might meet the wants of parents who are tired of kids that always want to borrow their $200 iPod and fill it up with songs from High School Musical and Hanna Montana. This kid-targeted MP3 player retails at just under $40, comes with a 512MB SD card (would you expect another medium from Sandisk?) and has some unique methods for navigating music.
The name "Shaker" comes from the fact that users of the player can actually give it a quick, sharp shake to advance to the next song. While this might significantly underestimate the technical dexterity of small children who grow up mastering video games where most adults can't get past the initial level, it is a kinda of a cool idea. If nothing else it will keep someone who cannot use the band controls busy for at list a few minutes.
The Sansa Shaker comes in colors of blue or pink and has dual headphone jacks so two people can listen to the music at once. It also has a built in speaker which is also kind of a cool idea since most ear buds and headphones are not built with little kids in mind. One AAA battery will give 15 hours of playback for one headphone listener.
The Sandisk Sansa Shaker is available from the Sandisk website, where you will get the player, a 512MB SD card, a set of headphones, a USB cable to connect it to your PC, 5 preloaded songs and some undoubtedly cool stickers for the kids all in the box.
MP3 player, pmp, SanDisk, Sansa Shaker, Shaker