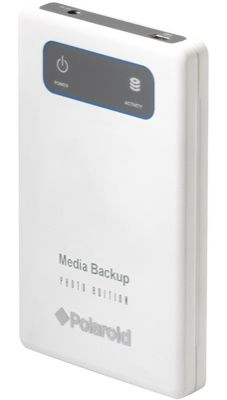 The digital photography age hasn't been kind to old school titans like Polaroid. The creators of the instant photo have taken a beating as digital cameras and photo quality printers hit the market and eliminated the need for dropping off your canister of film at the local photo department. However, this latest announcement from the company shows that there's still innovation happening in their R&D department.
The Polaroid Media Backup CGA-02540 is perfect for anyone you know that is technophobic when it comes to downloading or transferring photos from one computer to another. When you plug this unit into your system's USB it automatically searches for any digital photos, copies them to its 40 GB of storage and voila, instant backup. That's it. No software to learn, no extra cables to clutter up your drawers, it all comes down to Polaroid's ClickFree software.
It comes in both a while and black version so you can color coordinate too. The Polaroid Media Backup will set you back around $130.
via Popgadget
backup, Polaroid, Storage