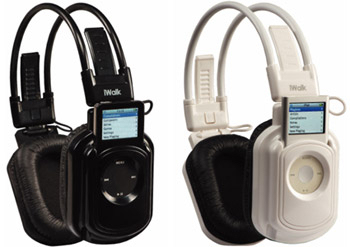 Now that Apple has sold 100 million iPods the third party market for this consumer base will show no sign of slowing down. Witness the latest fashion statement/iPod accessory that you can now own: collapsible iPod headphones.
Novac is bringing these 150 gram babies to market and they come in a choice of white or black (sorry, your red/blue/green nano gets left out.) Slide your first or second gen iPod into the iWalk (yes, that's it name) and you're good to go. You can access the scroll wheel easily since that section of the iWalk is left open.
A second iWalk headset can also be connected to yours just in case a friend would like to listen to your tunes but they better not walk too far behind you, right? Also, the iWalk is compatible with other MP3 players or your PC via the 3.5 mm audio cable that comes with the unit and they fold up on themselves when you need to store them and space is at a premium.
The iWalk will arrive on store shelves in the middle of April. The Japanese price is 6,980 yen, which works out to about $68 of our dollars.