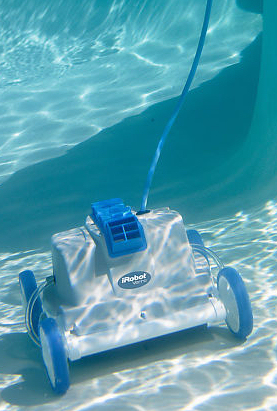 First the robots came to clean your carpets. Then they started washing the floors of your kitchen. Then they invaded the sanctity of your garage. Now they want to clean your pool.
Just in time for the summer the futuristic sounding iRobot Corporation has introduced the iRobot Verro Pool Cleaning Robot to make your dog days that much easier to get through. These people are the same ones that brought us the Roomba, so they probably know what they're doing putting a semi-intelligent electronic device into the water with you.
After unpacking the robot you toss it into the pool where its vacuum starts to clean all that gunk left behind by you, like human hair, as well as the stuff dropped off by the wind that collects at the bottom of your pool.
iRobot claims that their two models, the Verro 300 ($799) and 600 ($1,199), will clean any pool from the floor to the waterline in 60 to 90 minutes and it will help circulate chemicals better and maintain a better water temperature. The filtration system gets all the little things up to two microns in size. Compared to the size of the average human hair (70 microns), the Verro might as well be a sanitizing droid.
The 300 model works better on concrete pools, having a hydro-jet that can blast the dirt up from the bottom of the pool. The 600 model works better for fiberglass, vinyl and tile pools and has PVA brushes that scrub the sides as it swims around.
Dear iRobot Corp CEO: can you make a robot that cleans the barbeque next?