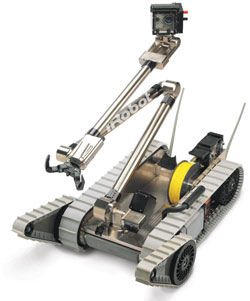 If you didn't already know, the military has been using iRobot's services for the wars in Afghanistan and Iraq, sending versions called PackBots specially made to sniff out IEDs and do scouting in dangerous places so that real humans aren't in danger.
With over 900 PackBots sold and in use so far the iRobot Corporation and Boeing are teaming up to create a new next gen robotic scout that will serve in the military as well as private sectors. Dubbed the Small Unmanned Ground Vehicle (SUGV) Early, this little droid will weigh less than 30 pounds, allowing troops to pack it into remote regions and then scout out areas for any enemy combatants or to map the terrain before moving troops ahead.
iRobot will design, develop and manufacture the Early robot while Boeing lends a hand with systems integration, large-volume production and global marketing for the units. The new iRobot will also be marketed for civil and commercial applications, such as for police departments or corporate security. Both firms plan on using technology already handy to make the Earlys and anticipate that the first models will be available for use in the field next year.
Boeing, iRobot, PackBots, Robots, SUGV