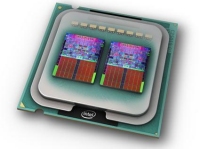 Today Intel announced a new addition to its quad-core processor family with the Intel Core 2 Extreme QX6800.
The Core 2 Extreme delivers the fastest clock speed ever reached for Intel in a quad-core desktop. While this is good news for really any type of processor intensive applications, where it really gets the most notice is from the gamers. Intel mentioned some games that are already built utilizing the quad-core functionality to improve gaming performance, such as Crysis, Supreme Commander and Hellgate London. Intel stated that these games have 'undergone substantial joint engineering efforts with Intel to use more than two processing threads to their advantage,'.This new quad-core runs at 2.93 GHz with an 8MB cache and supporting 1066 MHz system bus.
This announcement from Intel follows a number of new releases from the chip-maker as it keeps up its close and heated battle with rival AMD, who incidentally should be releasing a quad-core processor of their own this summer. Other recent developments from Intel include two power-savvy versions of it's Core 2 Duo, two quad-cores for high end apps and a plans to merge it's vPro IT package into the 'Santa Rosa' Centrino notebook later this summer.
The new Core 2 Extreme QX6800 will run about $1200.
Core 2 Extreme, Intel, QX6800