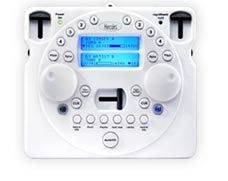 Say you're a DJ chillin' out with your crew when the urge to start a rave overtakes you. While our attempt at rhyming may sound as implausible to you as the likelihood of a rave spontaneously occurring within your vicinity, Hercules' new Mobile DJ MP3 lets you indulge in your fantasy and make it easy to mix your beats.
Visually this baby looks like it fell from the same molded white plastic future presented in "2001: A Space Odyssey" but its main asset is the unit's lack of cords letting it be totally free from stationary decks and thus makes for easy travel from your place to wherever the party is getting started. The dual mixing deck lets you mix, loop, fade in, distort and insert special audio effects and then plug it in to a computer for later downloading as MP3 or WAV files or beamed back via wireless USB connection.
Powered by two C batteries and guided by the twin LED screens to let you keep track of your tracks, the Mobile DJ retails in the neighborhood of $100 to $120 beans. Now if Hercules only made a version that lit up under black light we would be trippin' with it right now down at the rave.
via Gearlog