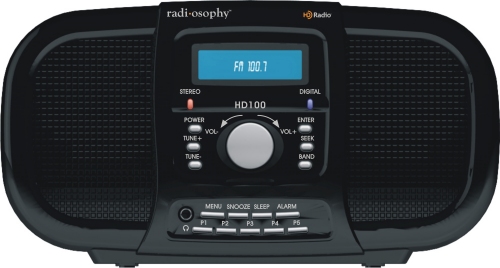 Directly from North Sioux City, South Dakota, almost the exact same place that Gateway computers started out, comes a new affordable HD radio from a company called Radiosophy.
The HD100 HD radio has all the basic features you would find in most HD radio packages, but without any frills, and does it with a very reasonable price at $119.95. The company is even offering the HD100 for just under $100 until the end of June.
The 12 inch wide radio can pick up AM and FM stations, and of course can pick up all the HD AM and HD FM stations within range as well. It has a scan function that can scroll through the numbers and pick up signals for all radio stations in your listening area or set it to identify just HD stations in its search.
The HD100 can function as a bedside alarm clock with an alarm, snooze and sleep features, and a simple line-in will let you play your MP3 player through its speakers, as well.
Radiosophy really brings HD radio back into the picture for us "thrifty shoppers" who liked the idea of digital radio but really couldn't justify the common $250 plus price tag.
HD Radio, HD100, Radio, Radiosophy