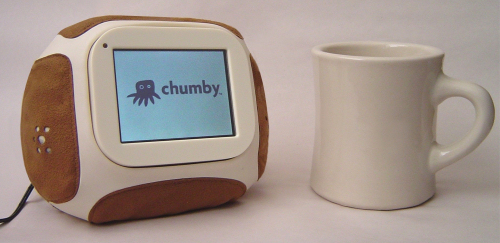 Throw away your alarm clock and place a new Chumby where it used to go. This customizable gizmo lets you program it to display your favorite websites, photos, sound files, online games, media files, RSS feeds and whatever else you tell it to do.
You can place it anywhere inside your home (granted that the Chumby's power cord can reach the closest wall socket, but there is a backup battery just in case.) You set up your Chumby through the 3.5-inch touchscreen, or something called "squeeze sensors" that we've just got to try out.
WiFi connectivity allows the device to download the content and then it gets displayed. There's also a USB port, audio input/output and a pair of built-in speakers to listen to whatever it is that you like to hear. The Chumby has been devised so that it's easy to customize it, either by programming your own widgets or downloading them from the Chumby website.
The company tells us that the Chumbys will start to go on sale before the end of this quarter and cost about $150. There will be five different exterior models that you can choose from to match your décor or heck, just fabricate your own.