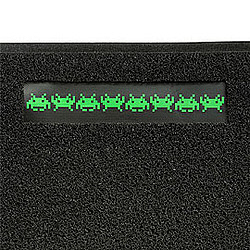 The retro video game era lives on with this must-have item for anyone old enough to remember spending hours (and your allowance) blasting away outer space bugs lined up in rows.
La Tête Au Cube brings to you the Space Invaders doormat, and that's right kids, it has a built-in LED screen that features the same pixel-shaped alien attackers from the classic arcade game marching left and right above the spot where your guests wipe their feet. The mat measures 24" by 16" and is made from rubberized plastic. The LED screen is powered by a pair of AA batteries so you can always rest assured that the extraterrestrials will return once you slot in a pair of fresh Duracells.
While the novelty of having this doormat may be overwhelming, the high price tag ($110) and the simple fact that it's now sold out on the only online retail store that we could find hawking it is discouraging. Still, if the demand is this high for a piece of 1970s gaming nostalgia, could other retro gaming mats be far behind? Perhaps a Pac-Man one?