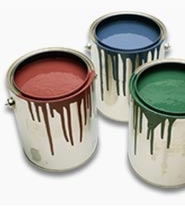 It's the perfect product for people that can't figure out how to set up their own personal encrypted network. EM-SEC Technologies has the solution to those technically-challenged folk: just paint your home with the EM-SEC Coating System and your wireless network is secure. People inside can still access the network but anyone attempting to access it from outside won't be able to because of what's on your walls.
The EM-SEC paint works like this: the paint uses a series of water-based shielding products that restrict the passage of airborne RF signals, thus blocking the transmission of the frequency from your hub or modem. Naturally this kind of technological breakthrough was at first designed to shield government and military centers and protect their sensitive data streams but now private business and non-geek home owners can get in on the act. Just don't leave your windows or doors open when you're surfing the web.
The company has just finished conducting a test to show that one coat of the paint secures a room from outside wireless viewing but so far EM-SEC hasn't announced when we'll be able to pick up a gallon down at the Home Depot, or for how much.
via Tech.Blorge