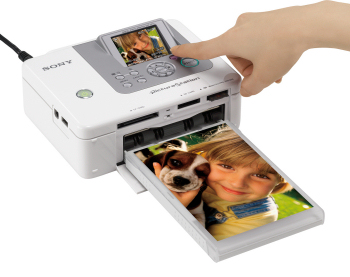 While snapping off a few photos here and there may not take any effort at all, it has always been somewhat of a hassle to print those beautiful pictures you take. However, conveniently, Sony has come up with a solution for all.
Recently debuted was a pair of lightweight photo printers with built-in carrying handles. While being able to print photos in less than a minute, the DPP-FP70 and DPP-FP90 PictureStation also offer "extensive editing capabilities," allowing you to preview and edit photos on the 3.6″ LCD screen, before printing them.
In addition, you can select from a few pre-set phrases such as the common "Happy Birthday", to print along with your photos and further 'personalise' them. Along with that, a vast array of features such as cross filter, partial color, paint filter, and fish eye filter are all available in both models.
These portable picture printers work on "optimized performance" with Sony's CyberShot – no surprises there.
Said Kelly Davis, Sony Electronics' senior product manager for PictureStation, "Our new personal printers bring the photo lab to you, whether you're out at a party or in the comfort of your home". The DPP-FP90 and DPP-FP70 printers will be available in March for around $200 and $150.