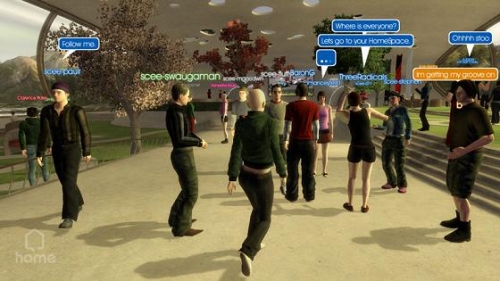 Currently, the talk of the town over at GDC is Sony's new "Home" for the PlayStation 3. This virtual world will allow you to create your own character, complete with avatar, and live life to the fullest in the vast online community. Users will communicate in any of 3 ways: text messages, audio chat or video chat. Among the immense amount of features, users will also be able to create their own home. Storing it with furniture, decorations, games and other things, users will be able to customize their "Home" as much as they like. Premium items will be available to show off. Naturally, users will be able to invite others into their home to have a look around or to just play some games.
Outside of the user's home will be a huge environment for everyone to socialize in. There will be game areas that include classic arcade games or even a game of bowling or pool that users may play with a friend. As well as this, there will also be cinemas where live trailers or user created videos can be watched. One of the most interesting parts of "Home" is the hall of fame. In there, gamers who have achieved certain accomplishments in specific games can show others just how great they are. With many games slated to be released for the PlayStation 3 throughout 2007, users can look forward to a vast amount of trophies to be collected. Most features in "Home" will be free, but there is always the extra mile to go with premium items.
More information about this has not been revealed as of yet. "Home" itself will be free to download and is currently in private beta. A Sony representative stated that public beta will be available soon, and that "Home" should be released sometime in the 4th quarter of 2007.