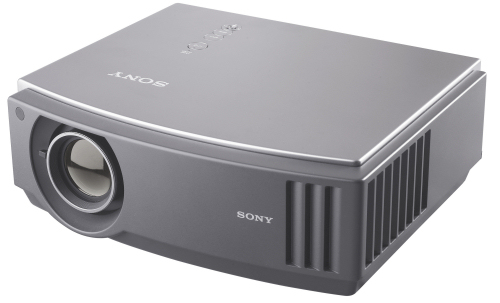 The debate between plasma and LCD still continues on but for those who have debated over whether avoiding the box solution entirely and dropping $2K on a front projector, the scales have just tilted more in your favor. Sony is bringing out two Bravia projectors which feature progressive resolution and high illumination in 1280 x 720, and best of all, they start at prices that are affordable.
The two models are the Bravia 2LCD VPL-AW15 ($1,300) and the VPL-AW10 ($1,000.) Both have a 165-watt ultra high pressure lamp that cranks out 1,100 lumens, a short focal-length lens with 1.6 times zoom and a low noise fan (producing 20dB in low lamp mode), and also have HDMI input supporting 1080/24p. The beefier of the two is the AW15 which has a contrast ratio of up to 12,000:1 giving deeper blacks and crisper resolution (by comparison the AW10 has a contrast ratio up to 6,000:1.) The VPL-AW15 projector also includes an HD15 input for analog PC and has more user optimization features than the AW10 including Sony's Real Color Processing function and a ARC-F lens that takes up less room and makes for better viewing in smaller rooms.
Sony will be shipping these projectors in June, so if you're making plans for the next stage in your gaming, TV or movie lifestyle, hold out just a while longer.