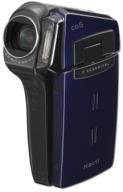 Sanyo has announced that the Xacti CG6 digital camcorder is finally set for its US release toward the end of March. This tiny, pocket-sized 6 ounce still/video camera works well for decent on-the-go video recording without having to haul around a standard size camcorder.
The Xacti CG6 has a 6 megapixel CCD with a 5X optical zoom lens through which video and still pictures can be taken, viewed through a 2.5 inch fold-out LCD screen. The camera supports widescreen shots and even has real-time interpolation for 10-megapixel (3680×2760) high-resolution recording.
The camera also has a fairly quick and easy to use interface, providing voice prompts for menus and allowing on camera video editing when memory allows. Data can be transferred to and from your computer via USB 2.0 and the CG6 supports PictBridge as well.
SDHC-compatibility was added to the Xacti CG6 to handle up to an 8GB SDHC card with recording time that equates to about an hour per GB of memory. The highly portable camera also comes with Ulead DVD Movie Factory and Photo Explorer, and will retail for around $329.99 USD.