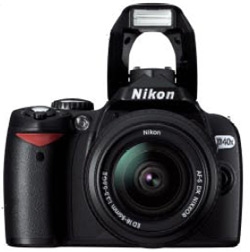 Nikon has announced that it will release its new D40x digital camera in April. Replacing the entry-level D40 unit, the D40x will feature 10.2-megapixels of resolution (40% more than its earlier model), a greater sensitivity range (100-1600 ISO), continuous shooting (3 frames per second) and a 3-area AF system.
Measuring 5.0 x 2.5 x 3.7 inches and weighing 1 lb., 1 oz., the D40x has a dedicated help function button, 3D Color Matrix Metering II system and easy to understand graphic user interface. In-camera editing is as easy as pressing the retouch button. The camera also features manual and automatic modes and eight preset Digital Vari-Programs for JPGS and NEF picture taking. Red-eye color correction and D-lighting are also built-in.
Nikon will offer the D40x separately or as part of a kit which will include a 3x zoom 18-55m lens. The D40x alone is priced at $729.95 or with the lens kit at $799.95.