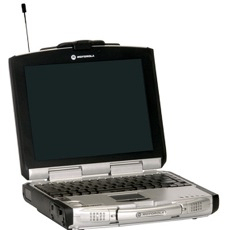 You may never need your computer to have a tough outer shell capable of withstanding the great outdoors but for search and rescue personnel, fire and emergency crews or military personnel stationed in out of the way places, it's a necessity.
Motorola has stepped up to the likes of the Diamond SwitchBack offering two new PCs designed for such jobs, the ML910 Rugged Notebook and MW810 Mobile Workstation. Both systems are wireless-enabled and made to work in different extremes of climate, with the ML910 having a hard drive heater (!) just in case you snap open this baby in a place where it's below freezing, as well as having diagnostic software that monitors the internal temperature, working to prevent any lock-ups or power outages as a result of high heat or sub-zero cold.
Powered by a Intel Core Duo 1.66 Ghz processor, an ATI Radeon X1400 graphics card, a video capture card and 128 MB of memory, the ML910 can also support up to four radios including ones using LAN, Bluetooth technology, GPS, or Wide Area Network radio.
The MW810 Mobile Workstation has a three-piece design to it, with a separate display, keyboard and CPU base unit. You can configure your workstation to the specs of the vehicle it will be stationed in, making it optimal for whatever pair of wheels it's rumbling around inside. Operating from an Intel Core 2 Duo processor, the MW810 has a slew of programmable buttons, a sunlight-readable display, internal GPS and something called a Dead Reckoning GPS – so even if your signal disappears the unit will continue to guesstimate where you are.
Both the MW810 and ML910 have just gone on display at FOSE 2007 in Washington, D.C.