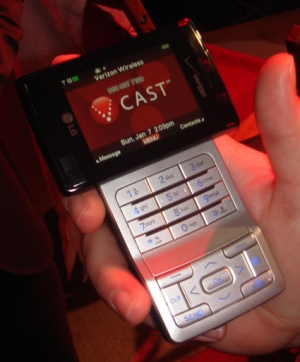 The rumor du jour is that LG is prepping to release its VX9400 handheld phone/TV on March 23. As we reported this past January, Verizon is soon to launch a service that allows for live television to be beamed and picked up by mobile phones.
Samsung is the other company with plans to release a phone, the u620, that works with the service, but we've been waiting to see what LG's entry looks like in action especially since it has a neat looking pivot screen. According to a tipster that whispered in Engadget's ear, LG will launch the VX9400 on the 23rd in the VCAST launch cities.
Prices are said to be $350 for the full version, $250 for a one year contract or $200 if you purchase two years at sign up. The same tipster also claims that the Samsung model will cost you $80 after all the rebates but only if you sign up for a two year plan.
We're still awaiting official prices from both companies but have our hands ready to open our wallet…
LG, Mobile Phones, vcast, Verizon, VX9400