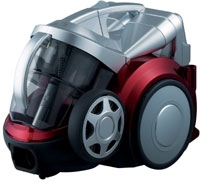 Perfect for those of us that like to make things from spare parts lying around the house comes LG's Kompressor vacuum cleaner.
Looking like it's six degrees of separation from being related to R2-D2, the Kompressor not only sucks up all the crud and dirt found on your floors but, true to its name, it smushes it all down into the shape of a brick. The idea behind this isn't that you can make an extra guest room out of your dirt but that it gives the user up to four times as much space as a traditional vacuum cleaner for sucking up the garbage before you need to open the unit up and dispose of it. Plus, it looks like a droid from "Star Wars", which the Roomba still doesn't look like (even though it really is a droid.)
LG plans on rolling out the Kompressor line in April. Three different models will be offered and it will cost you about $400 to own.