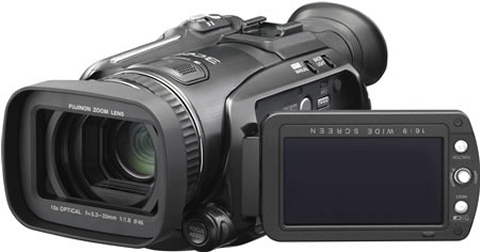 JVC rolls out its new Everio GZ-HD7 camcorder next month, giving the public the opportunity to purchase the first full high definition video recorder on the market.
Capable of recording images up to 1920 x 1080i at 30Mbps, the cam also includes a 60 GB hard drive which will give you about five hours of HD recording time. Colors are captured using three 1/5-inch CCDs for reds, greens and blues, using 16:9 progressive scan and pixel shift technology. The camera also comes with a broadcast quality Fujinon lens.
Since the camera records in MPEG2 format the videos you take on the GZ-HD7 can be copied onto Blu-ray discs (if you have a Blu-ray recorder and the software.) Also bundled with the camera are optical image stabilization technology, a host of digital connections (USB, DV, HDMI), manual controls, editing and archiving software and if you plan on owning an Everio Share Station you can port over your material to disc with ease.
All you need next is your own TV station and you can film and broadcast what you shoot. JVC is pricing the HD Everio GZ-HD7 at $1,799.95.
NewLaunches via Giz