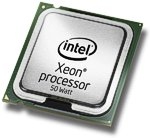 As chip design companies, Intel and AMD are locked in a seemingly never-ending race to outperform the other, with every little technological advantage that they can wring out of their designs trickling down to the bottom line and how much money they stand to make.
However, it looks like Intel just took the lead with today's announcement that it is now selling more energy-efficient quad-core microprocessors. For companies that have data centers, the annual power savings could be significant if they used the power wise chips. Intel says that its new Xeon L5320 (1.86 GHz) and L5310 (1.60 HGz) quads consume just 12.5 watts of juice, a reduction of between 35 percent and almost 60 percent less electricity needed for the older models. At bulk orders of 1,000 units the cost of the L5320 is $519 while the L5310 is $455.
But while Intel may be a few steps ahead of rival AMD, the latter company could catch up and even overtake Intel. Last month AMD said that its new quad-core microprocessor, codenamed Barcelona, will be ready for retail around the middle of the year. The company also added that the Barcelona chip isn't just faster but also improves saves energy over their Opteron chip line.