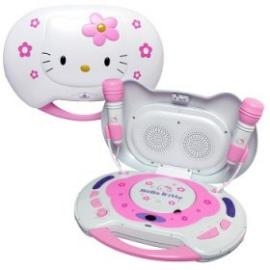 How many Hello Kitty products are there? Have the brand's owners moved into construction machinery, airplanes, satellites, adult novelty toys? Wait, we don't want to know the answer to that last one.
Say hello to the Hello Kitty CD Karaoke System and Player. This pink and white piece of plastic that's got more attitude than Paris Hilton drunk and panty-less will entertain sick-minded people for hours.
It's got two microphones because, as we all know, Hello Kitty friends tend to hang out in groups. It's got two three-inch speakers because, as we all know, speakers come in pairs. The LCD screen displays the track number and running time so your friends know for how long you have been massacring the song. There's even a flashing disco light in case you want to get really funky and lay down some party. A headphone jack and random play button just prolong the torture, and it's got CD R/RW capabilities too.
Priced at under $45 bucks on Amazon.com, this is something that every petty world dictator's torture room should not be without – and it's affordable at that price too! Best friends forever!
Source: Crave